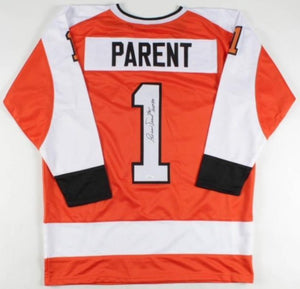 AUTOGRAPHED  Philadelphia Flyers Jersey by Bernie Parent. This jersey was signed (also is inscribed "HOF 84") by the great 2-time Stanley Cup Champion and Hockey Hall of Famer. No one dominated the league the way Parent did, especially during the 73/74 and 74/75 seasons.  He led the Flyers to the championships both years, and along the way collected the Conn Smythe Trophy and Vezina Trophy for both seasons. He was inducted into the Hall of Fame in 1984.
This purchase includes a signed JSA Certificate of Authenticity verifying its validity. 

Take home this great item today. It's a perfect addition to your NHL or Sports collection.